Last updated: 24th October 2021
Varadero Hotel Review
We'll start off by saying this is not a review of Varadero in Cuba, as we didn't go anywhere apart from our hotel resort.  Instead this is a review of the hotel resort we stayed at The Blau Privilege Cayo Libertad. When we have a beach holiday, we usually combine it with some other travelling in the same country.  So after some busy sightseeing and adventure, we then love to stop, do nothing and just chill in a luxury resort, this is exactly what we did in Varadero after visiting Havana.  So here's what we thought …
Blau Privilege Cayo Libertad
We decided to book a 5 night stay in Varadero, for our Cuba trip. Looking online most of the hotels in Varadero seemed much of a muchness apart from price. We wanted a nice all inclusive resort and gay friendly so we plumped for the Blau Privilege Cayo Libertad. An adults only all inclusive 5 star resort hotel which is right at the tip of the Varadero peninsula with the harbour one one side and the Atlantic Ocean on the other.
Welcome
As we arrived at the hotel it had an classy feel to it as we entered its gated community by taxi. Next a couple of gold AAA wrist bands to show off our status!
The Gardens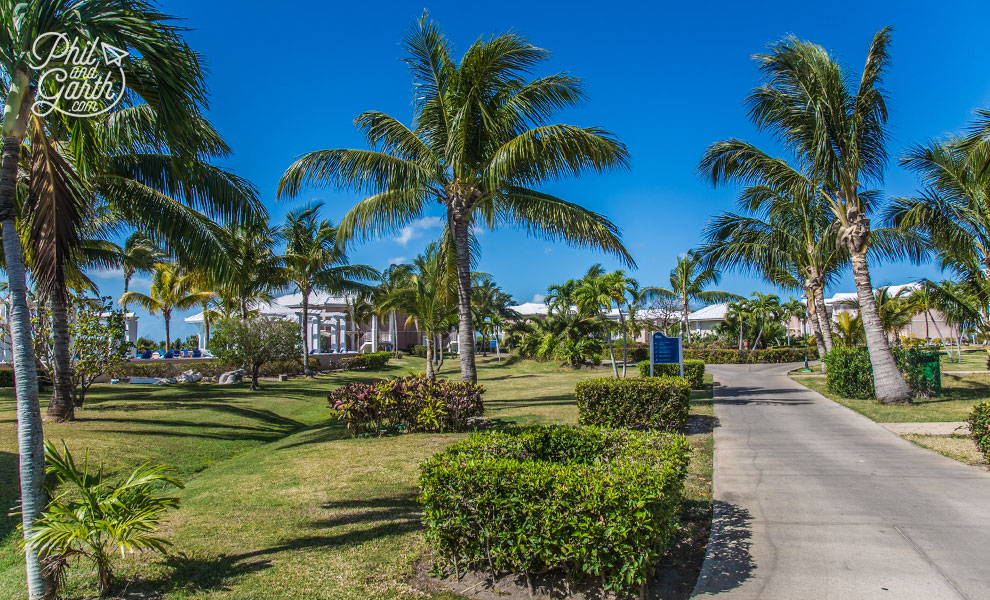 There are about 80 rooms in low rise colonial style buildings, 4 rooms per block, set in beautiful tropical manicured gardens.
This was our room was large with a separate bathroom and dressing area.  There was a stocked fridge, safe and cable tv check out the bed art!
One Beautiful Beach!
Best of all a lovely private sandy beach overlooking the perfect turquoise blue ocean, with about 20 loungers and only a few taken up, It was like our personal, private island.
The Pool
There was a private pool with swim up bar, outdoor jacuzzi and sauna too, although the latter two were closed for maintenance.  The pool had plenty of loungers and not many people, which given the hotel staff said the complex was busy – perfect! nice and quiet and no kids – hooray!
Cigar Bar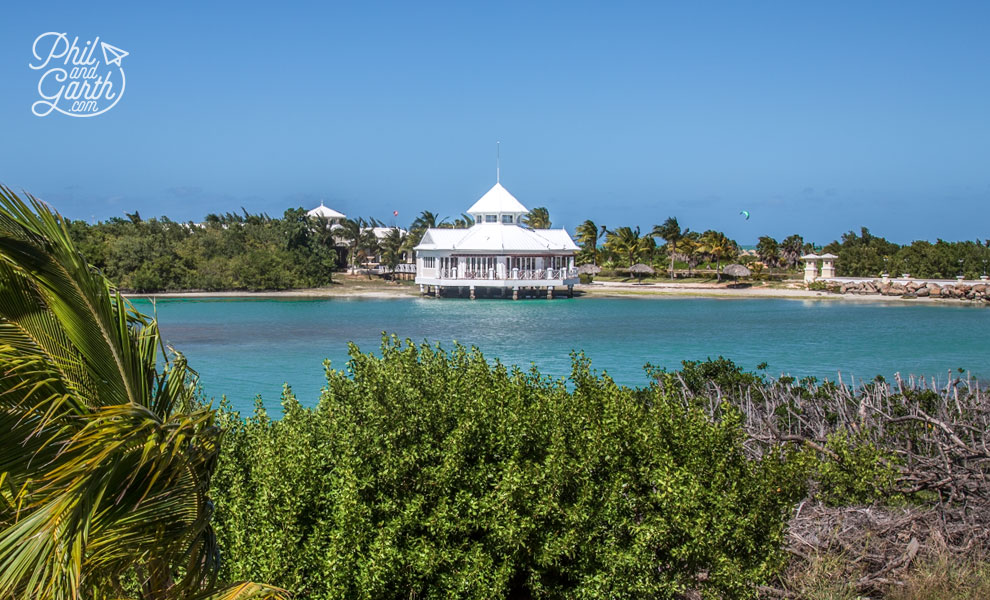 If you like smoking then they also had their own cigar bar set on a picturesque jetty over the water, which was open from 9.30pm nightly.
5 Stars – Cuba Style
The only thing Garth was a little disappointed by was the lack of padded sun loungers (I mean really!) which he thinks you should expect from a 5 star beach resort. We felt Cuba's 5 star rating was possibly 4 star in our experience not quite the same as others we've stayed at, other things like the shower had little pressure or attention to detail like our sun terrace had paint on the floor, or Wifi was available in areas but at a cost of 2cuc an hour in line with Cuban government policies but they could be forgiven as the Internet is only just developing across Cuba. We had an issue with our AC which was ridiculously icy cold when we actually needed heat, as the evenings were cool, to their credit the hotel sent 3 members of staff immediately round to investigate, so good attentive service, mind you they said "if it cold, turn off". Which Phil had sort of already sussed!
The Food
Despite being all inclusive, meals were not buffet style or served in troughs, instead à la carte in a private restaurant. Good choices on the menu, again but not quite 5 star as the menus didn't reflect what was on offer, as each day we were told what things were off the menu, 3 things not available on a daily menu of 8 items was a high drop out rate! Everyone kept saying the food was bland we would describe it as basic, but still tasty. Although the Penne Arrabbiata tasted like pasta in Heinz tomato sauce. Accompanying the meal was a terrific three piece orchestra every night.
The mini bar was not stocked with branded soft drinks, instead you get a choice of two government branded drinks, they tasted more or less the same as Coca-Cola and Fanta.
Blau Marina Varadero included
Staying here you also get access to all the facilities of its sister resort – The Blau Marina Varadero next door and stretching for a mile along the Atlantic Ocean. It's a hike but don't worry you can simply call reception and a golf buggy will whisk you there. It caters for the masses, but still has a nice feel about the place. We went one night to see the magic entertainment show, which had high production values, but felt slightly low rent Butlins-esq due to the kids, families and pre-show bingo. However it was fun and we like a good show, the theatre has plenty of different shows every night, magic, variety, circus and romantic – whatever that was!
Also on offer at the neighbouring resort – the fantastic sandy beach, shops, more restaurants and water sports to mention a few. Although we did get hassled by a couple of lifeguards on the beach selling cigars privately. We spoke with many Canadians who seemed to be the prominent nationality of guests as its only a 4 hour flight for them.
Conclusion
The pros – If you want to relax, swim in the Ocean or simply read to the sound of the water and swaying palms in the wind, instead of screaming kids then this place will serve you nicely like it did us.   There's also not many Caribbean islands where it's legal to be gay, Cuba is one of the more progressive islands when it comes to LGBT laws.
The cons – This is going to sound snobbish, but it's only because we had paid extra to be in an 'adults exclusive' resort. We got slightly peeved when neighbouring guests with children wandered onto the private beach and used the loungers and the pool. The staff were not bothered, but management should respect that fact we and other guests had paid extra to be in an adults only resort – just saying!
Phil and Garth's Top 5 Varadero Tips
Tip #1: Cuba is in the Caribbean, but the sea is the Atlantic Ocean, not the Caribbean Sea so it's colder!
Tip #2: Keep some money to tip your room maid
Tip #3: Treat yourself to a cocktail after a beach walk every morning
Tip #4: Don't stress about checking out, a golf buggy appeared outside our room by magic at the right time!
Tip #5: If you like evening shows don't forget they're at the Blau Marina Varadero sister resort.
Have you stayed at The Blau Privilege Cayo Libertad? Tell us what you thought in the comments below: