Last updated: 21st November 2020
Pints and Paella in Gibraltar
Gibraltar is a tiny overseas British territory located on the southernmost tip of the Iberian peninsula. The population is just 30,000 where the limited space of 3 square miles means people live in high rise accommodation, it reminded us of our time in Hong Kong.
Gibraltar's name comes from the Arab general who named it after himself – Gibel Tariq, meaning "Tariq's mountain". Tariq lead the Islamic conquest of Southern Spain and Gibraltar is where it all began in 711, and remained under Moorish rule for nearly 800 years. In 1462 Spain reconquered Gibraltar, but in 1704 it became under foreign power once again when the British captured the rock. Spain has continued to contest Britain's 300 year rule of Gibraltar and are still frequently at odds over the waters around Gibraltar and the airport.
Today "Gib" as the locals call it, is one of 14 British overseas territories and is the only territory to be part of the EU (for now). It has its own parliament and is self governing, except for defence and foreign policy which are governed by Westminster in London. Gibraltar has a strong military history so there's plenty of sights and ruins to see plus it's well known for tax free shopping which many tourists flock here for.
Proud of their Britishness
Gibraltarians are British citizens and they are passionate about their Britishness. Just like us in Blighty they have their own red telephone boxes, Royal Mail letter boxes, shop at Marks & Sparks, eat fish and chips and enjoy a pint in one of the many pubs. They also have their own sterling currency – you can spend your British pounds here, but you can't use Gib pound notes back in Britain.
The Britishness did strike us as a little odd and out of place when you first see a UK traffic light or familiar road signs translated in Spanish and Arabic or venues advertising a traditional Sunday roast dinner or pints and paella – all in the hot sunshine!?  However unlike the UK you don't drive on the left and Gibraltar uses the same time zone as Spain.
Apes, Caves & Tunnels
All the main sightseeing attractions are on 'The Rock' – these are: The apes at the Top Station, Upper Rock Nature Reserve, Skywalk, Apes Den, St. Michaels Cave and the Great Siege Tunnels. We started by taking the cable car located on Red Sands Road to the top and then walked all the way back down, spending around 3 hours in total exploring all the sights, it's not difficult.
Top of The Rock
Standing 426 metres tall and dominating Gib's skyline is the landmark, 'The Rock' – one huge piece of limestone!  The short cable car ride to the Top Station has epic views and is the highest summit where you can see in all directions. To the South are tankers in the Strait of Gibraltar – one of the busiest shipping lanes in the Mediterranean, with the neighbouring continent of Africa in the distance. To the East is the Costa del Sol where you can make out Marbella whilst looking North you can see Southern Spain and the immediate neighbouring Spanish town of La Linea.
Gibraltar's Famous Barbary Macaques
Barbary Macaques are The Rock's famous residents and there's estimated to be 230 of them. They might look like monkeys but they are actually tailless apes and they will attack you if you have food! So heed the signs, which warn you to not mock them or they will retaliate and bite. If you are caught feeding them expect to pay a fine between £500-£4,000.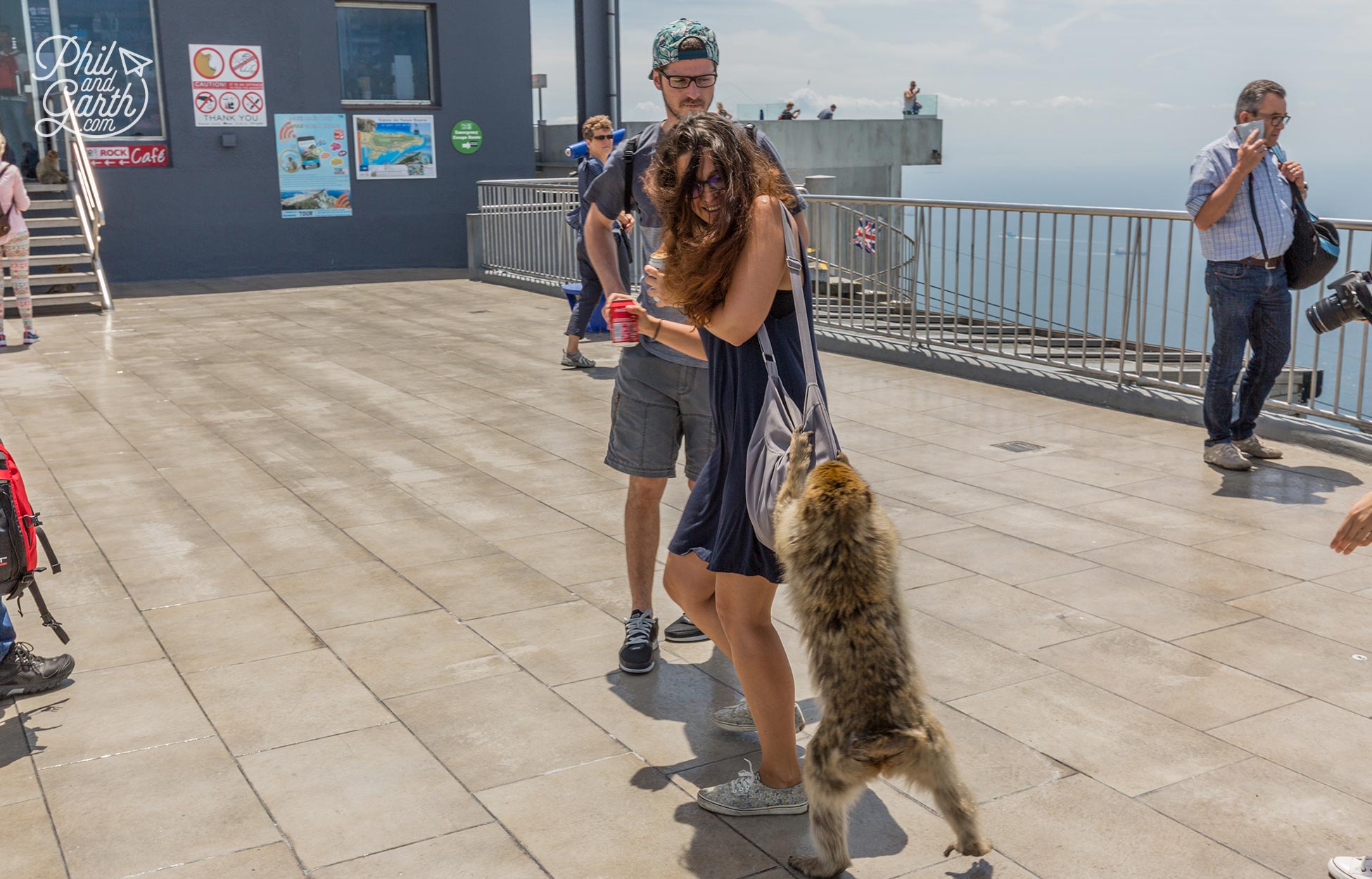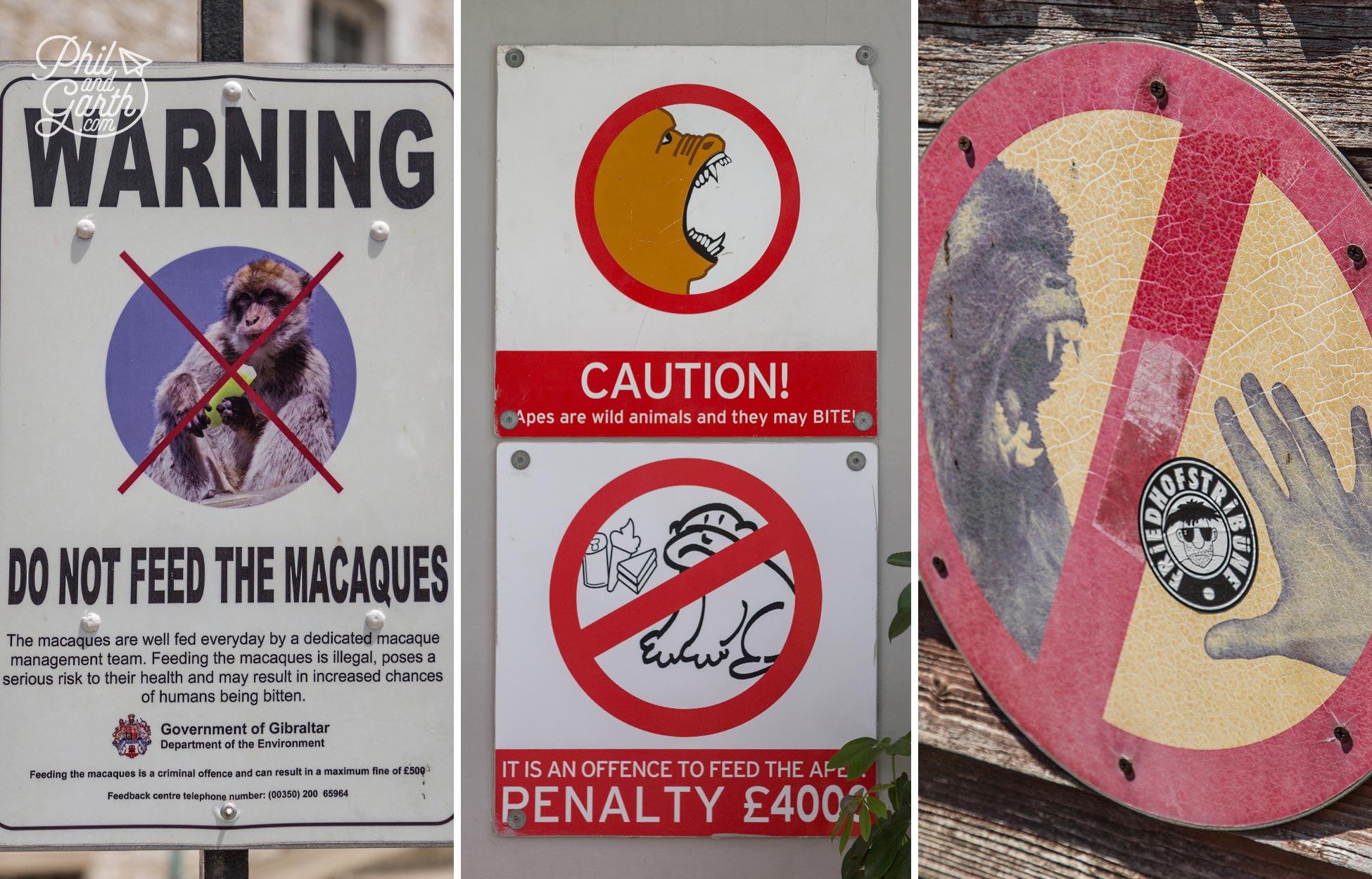 They do look very cute but don't let their sweet faces deceive you, they're wild animals after all. The Rock is one big playground for the apes, we found it fascinating watching them groom each other and stalk tourists who they think may be carrying food in their bags! They're intelligent and mischievious.
St. Michaels Cave
From the summit, we walked down to the Upper Rock Nature Reserve, which takes about 20 minutes and toured St. Michaels Cave, once home to the earliest inhabitants and thought to have attracted visitors since Roman times. In days gone by people believed it was from the cave that Gibraltar was linked underground to Africa.
This natural grotto is stunning with stalagmites and stalactites formed by rainwater of millions of years, they resemble pipes of a cathedral organ. The Cave also served as a hospital during World War 2, today it's used for theatre and concerts. On our tour Garth thought it was a bit tacky lit up in garish colours and preferred it when the lights stayed white to see the natural colours. It's also quite wet inside as we wandered so watch your step .
Upper Apes Den
Next it was down to the Upper Apes Den, where there was plenty of monkey business going on as the apes harassed passing cars and people! Legend says if the apes disappear from Gibraltar then the whole place will cease to be British, which is why Winston Churchill ordered replacements from North Africa!
Other Upper Rock Attractions
Skywalk – Former military lookout point now a glass walkway.
Windsor Suspension Bridge – 75 metre suspension bridge.
The Great Siege Tunnels
From the Apes Den is another 30-minute walk down the road to the Great Siege Tunnels. This labyrinth of tunnels was manually carved out with sledgehammers and gunpowder blasts by 13 men to create openings for guns on the Rock's North face. The Great Siege of Gibraltar took place during 1779 to 1783 when the British were defending against Spanish and French armies recapturing Gibraltar.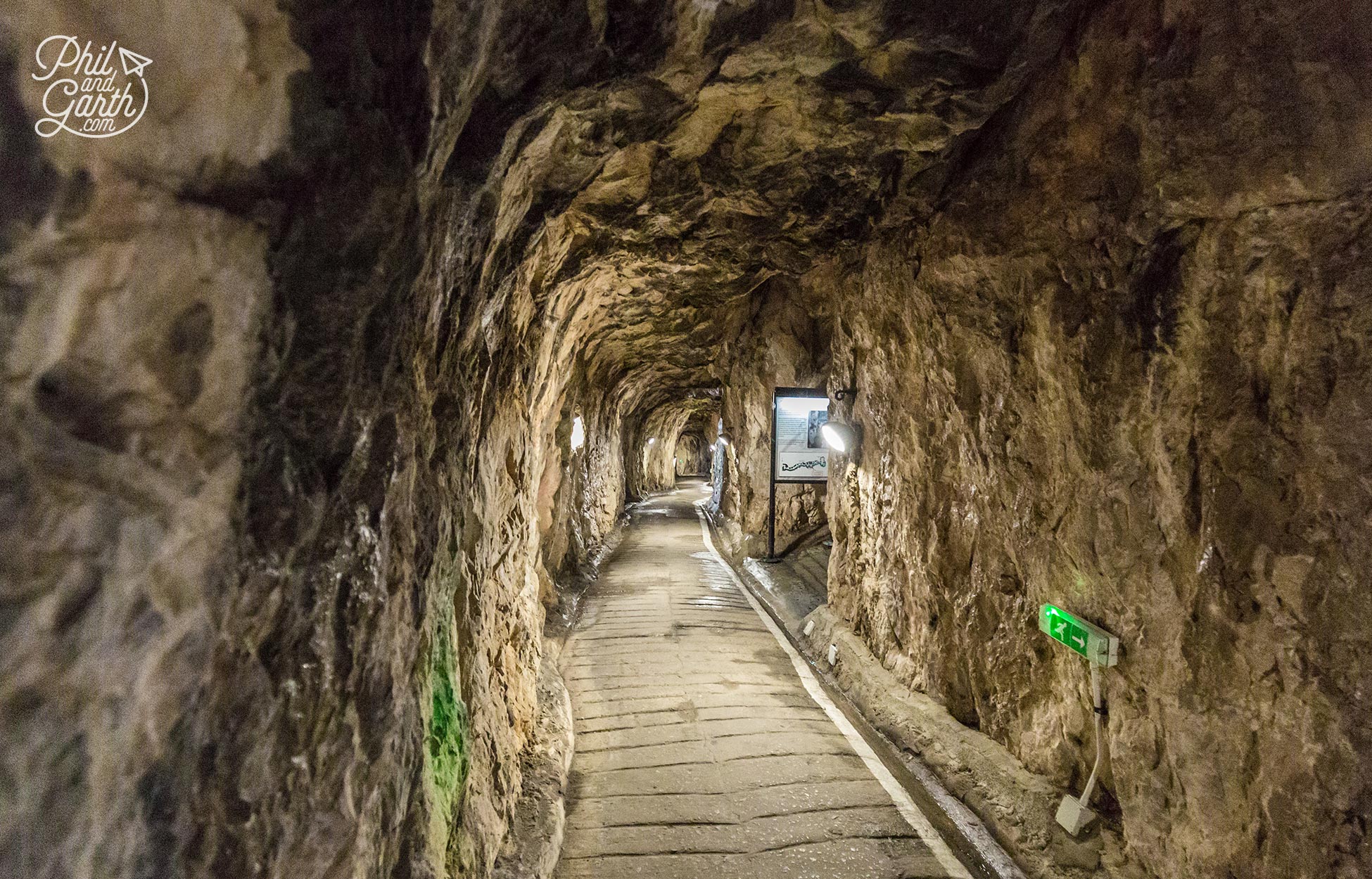 Across the Rock there's also miles of more underground tunnels over 50 miles to be exact. Most are off-limits to the public but you can hire a guide for the ones that were used during World War Two where the British Army prepared for an invasion by Germany.
11th Century Moorish Castle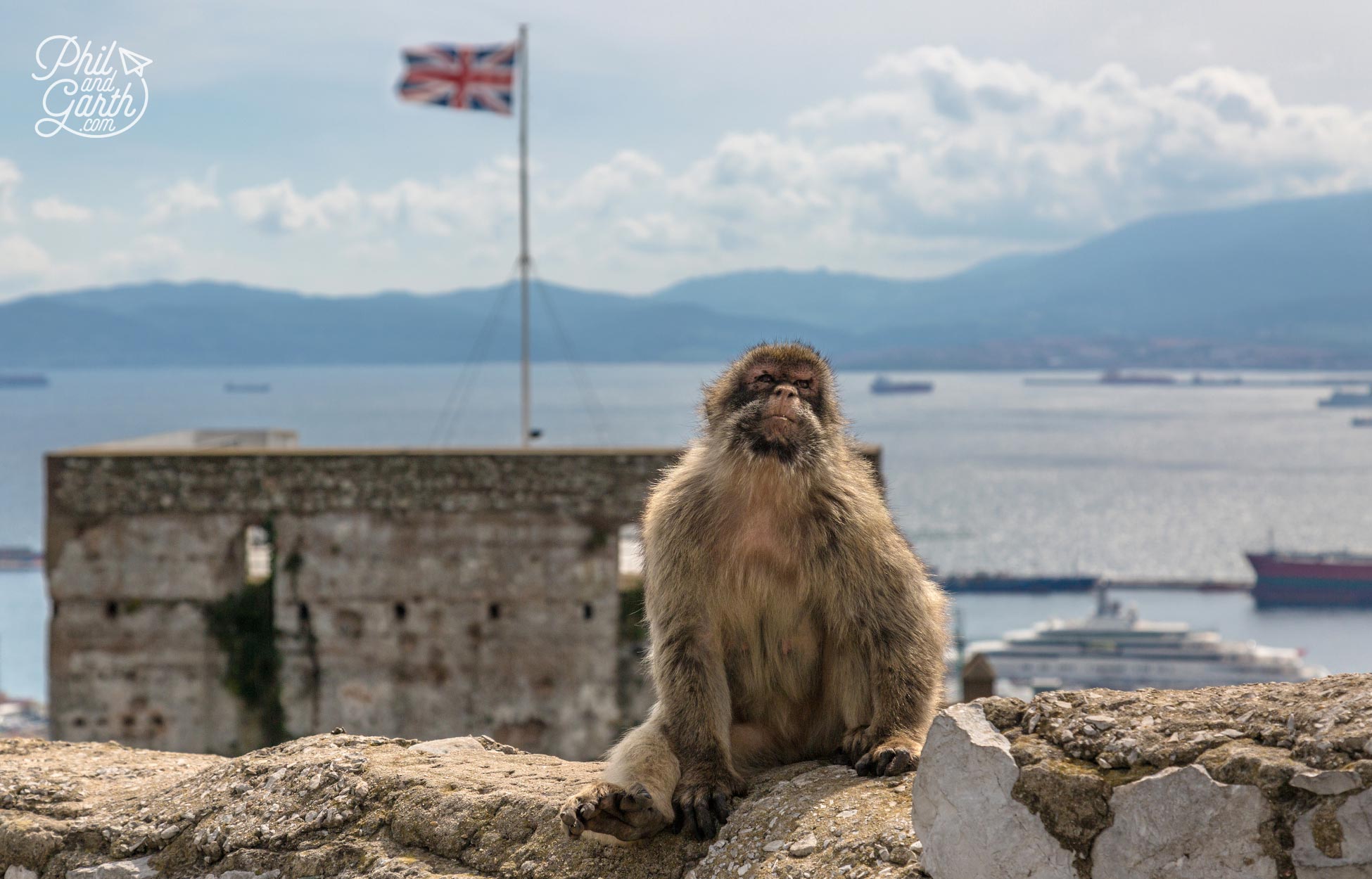 Continuing our way down the Rock, about halfway are the remains of the Moorish Castle built in the 11th century. Most of Southern Spain was conquered by the Moors, who ruled for over 7 centuries. Gibraltar was once a walled city with mosques, palaces and baths it was called Medina Al Fath, "City of Victory" The tower is the only part of the original Moorish castle that remains today.
When the British captured Gibraltar in 1704, the Union Flag was raised on the castle's tower and has remained ever since. Today the keep is still used as a temporary prison.
By now our legs were burning with all the walking, but we were nearly at ground level and found ourselves amongst the residential hillside homes and streets. Looking like a street from Northern Ireland there's a Union flag painted on a staircase on Devils Gap Road just behind the City Library.
Gibraltar's Airplane Crossing
When you first arrive into Gibraltar you can't help notice the main road into the city as it crosses the airport's runway! Just like a railway crossing the road closes frequently for planes to take off or land. When the barriers are up you have to drive or walk across it quickly! However if you do get stuck at the crossing lights it's really cool place to watch the planes take off as you're so close.
The runway was built during the second world war and is still owned by the Ministry of Defence much to Spain's annoyance. It's even been voted one of the world's most scariest airports to land due to the steep bank pilots have to make and the very short runway, we certainly felt the pilot slam on the brakes as soon as we touched down.
Casemates Square & Main Street
Just before the main shopping street is the cafe culture square of Casemates the site of the British Army's original barracks. Some of the buildings around the square was where ammunition was stored. The square also hosted public executions the 1860s.
A few steps from Casemates is Main Street, a pedestrianised shopping street with a mix of pubs, electronics stores, British high street stores like Debenhams and Marks & Sparks and is heaven for tax-free shopping. Many Brits make a special booze run to Gibraltar from the nearby Costa Del Sol as booze and fags are much cheaper here than in Spain.
Eat & Drink in Irish Town
Irish Town runs parallel to Main Street and is the place to grab a full English breakfast or fish and chips. We liked Sacarellos located in an old merchant warehouse it's Gib's oldest coffee shop and serves up great deli style food and nice cakes!
We also looked for 'Calentita' Gibraltar's national dish. It's like a yorkshire pudding pancake made from chickpeas. We tried a couple of bakeries but had no joy, maybe you'll have better luck the we did.
Another nice place to eat is down on the marina with English staple restaurant chains like Wagamama and Pizza Express, they have a lovely setting right on the water.
Beaches
Despite the rugged coastline there are a total of six beaches in Gibraltar, mostly man-made. Eastern Beach is the largest and most popular because it receives sunshine for most of the day. Whilst Sandy Bay has very few tourists, probably because parking is an issue and during the day it gets partially cast into shade by the Rock.
Southernmost Tip – Europa Point
In Gib you can drive to the southernmost tip of Europe (according to locals) Europa Point. This is where the Atlantic Ocean meets the Mediterranean. Europa Point's lighthouse is another great place for a view across to Africa, which is only 15.5 miles away. The lighthouse is 49 metres tall and dates back to 1841 and is the only British lighthouse outside of the United Kingdom. If you've not got a car you can get here on the Number 2 bus from the town centre. Oh and sorry Gibraltarians, Tarifa in neighbouring Spain is the actual Southernmost tip of Europe.
Also at Europa Point is the Catholic church, The Shrine of Our Lady and the Ibrahim-Al-Ibrahim mosque, donated by the Saudi King in 1997 which serves 4% of Gib's population. Interestingly how there's a complete mix of religions side by side where everyone lives in harmony from mosques, synagogues, churches to a cathedral there's even a Hindu temple. Gibraltar also has a big Jewish community and is a popular with Jewish travellers observing Shabbat.
Other Gibraltar Attractions
100 Ton Gun – A Victorian supergun built into the rock, the only other remaining gun is in Malta.
Great Synagogue – Dating back to 1793 this synagogue is one of the oldest on the Iberian peninsula.
Botanical Gardens – A hidden gem of green space near the cable car station.
Final thoughts
In Jerry Springer style our final thoughts – We think Gibraltar is like a more upmarket Benidorm – full of wealthy expats with plenty of old-fashioned English food. Gibraltar feels familiar, we really liked it – a little slice of Britain in the sunshine plus it's easy to see in a day. The only issue we experienced was the lengthy delays driving back to Spain, the Spanish customs queue can be very long and must be a constant source of frustration for Spaniards who work in Gib who have to do this daily.
Phil and Garth's Top 5 Gibraltar Tips
Tip #1: Believe us when we say put away plastic carrier bags when entering areas with apes.
Tip #2: Don't show your teeth or pull faces to apes – it's a sign of aggression.
Tip #3: Got more time? Take a day trip to Tangier in Morocco from nearby Tarifa in Spain.
Tip #4: If you are driving, leave plenty of time to get through customs into Spain, there can be a long wait in your car.
Tip #5: Book a seat on the right-hand side of the airplane (sat looking forward) for best views as you land.
How did we do it?
We booked bargain flights with Easyjet during their sale, they have direct flights to Gibraltar from the UK.
The cable car ride costs £20.25 per person and includes entrance to the Nature Reserve, Skywalk, Cave and Siege Tunnels.
Hired a car from Autos Aguirre SL and picked it up on the Spanish side of the border in La Linea.
We stayed in a villa in nearby Sotogrande in Spain and drove to Gibraltar, once you get through immigration park at the Ocean Village Public Car Park near the Marina. Alternatively you can park on the Spanish side in La Linea, and simply walk down Winston Churchill Avenue to Gibraltar's border control.