Last updated: 24th October 2021
Getting to the 'River of Nine Dragons'
The Mekong Delta, meaning the "River of Nine Dragons" is an area in South West Vietnam, where numerous canals and rivers meet the mighty waterway of the Mekong River.
We took an early morning day trip from Saigon and were driven south to towards Ben Tre where our Mekong Delta trip would start. Getting there was a long journey, over 3 hours but nevertheless interesting looking out the windows as the countryside gets more tropical and lush. We passed lots of rice fields which had graveyards right in the middle of the fields. It's a Vietnamese tradition to keep their ancestors close to them. Remembrance is very important part of their culture the graves are also positioned centrally in fields to bring their crops good luck.
The Mekong River starts at the Tibetan Plateau passing through a total of six countries to the South China Sea in Vietnam, it's the longest river in South East Asia.
Mekong River Trip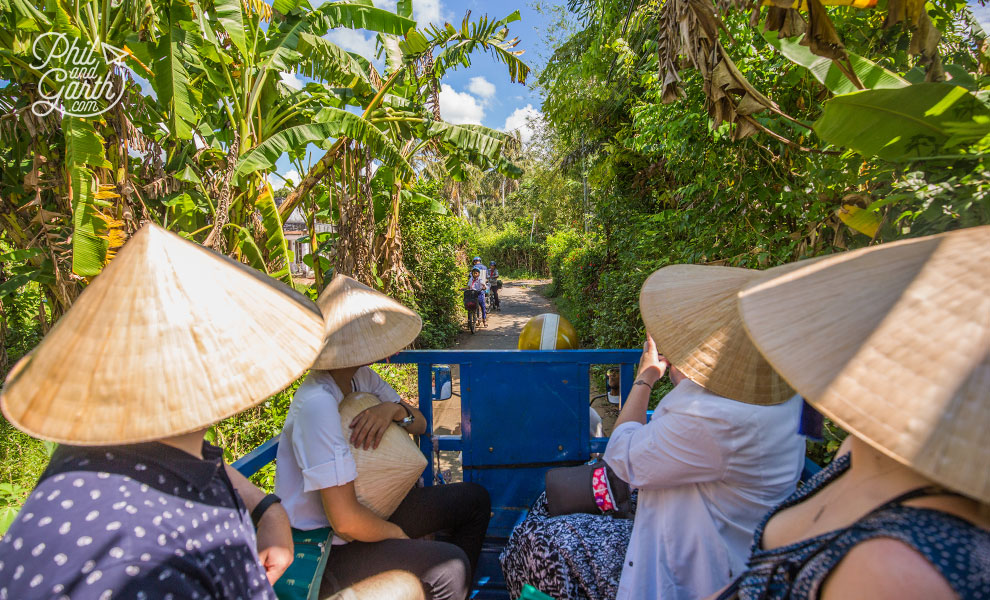 At the small town of Phú Hưng (south of My Tho) we boarded what can only be described as an industrial open top tuk tuk that whisked us on a bumpy ride through the countryside to where our boat was waiting. We both kept getting whacked by large banana plant leaves!
On the way to the river we passed all sorts of interesting things, Garth spotted this propaganda poster, you can't escape these communist messages even in the remote countryside. We passed loads of children on their bikes heading home after school who were so friendly shouting 'hello' and 'what is your name' to us, obviously keen to practice their English.
We had no expectations what our boat would be like, so it was a welcome surprise how luxurious it was!  It was just the 4 of us and our guide for the day, perfect apart from the temperature which was ridiculously hot so our conical hats and and extra shade were essential for the day. We set off down a small canal where we would join the Mekong River Delta and make various stops along the way.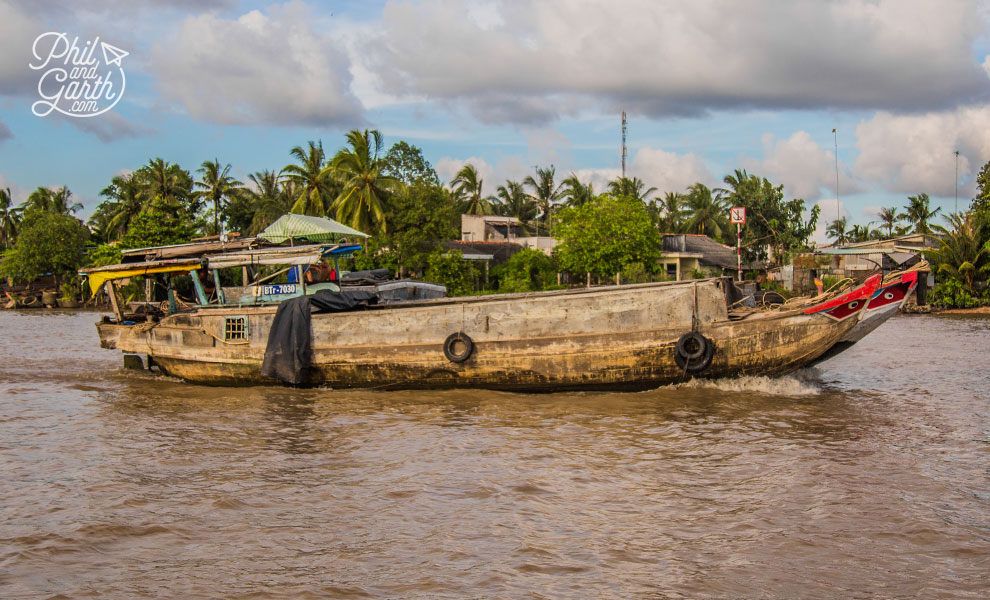 The Mekong has the appearance of chocolate milk and is just like a motorway there's lots of activity here where boats zip up and down filled with all sorts from coconuts and fruit to building materials. Some of the barges and sampan boats were so heavily laden, their produce was almost touching the water!
Making Bricks
So when we were told our first stop was to visit a brick factory, we weren't exactly full of enthusiasm, but it turned out to be quite a fascinating visit.
Bricks are made from clay dug from bottom of Mekong, put into machine to make blocks and dried in the sunshine. A massive walk-in kiln fired by the husks from rice is used for fuel, it looks like sawdust. The kiln is then bricked up and the fire lit, the bricks are cooked for 10 -20 days.
Charcoal was also made here by burning coconut husks. The coconuts were bagged up and sold on, every part was used, nothing was wasted.
Snacks in the jungle
Further down the Mekong another stop where we got on our bikes and cycled through the dense jungle to see some Delta villages in the countryside.  It was great fun cycling along village lanes, passing sugar cane groves and fruit orchards we saw exotic looking things growing like dragon fruit, jackfruit and pomelos. The jungle paths were lined with coconut and banana trees with massive leaves we kept having to avoid, but thankfully the Mekong Delta area is nice and flat.
Time for some jungle snacks! Hot tea and fruit that we dipped in a chilli and shrimp shavings dip, such a weird combination, it tasted like it sounds, let's say an acquired taste!  Our guide told us locals love this as a daytime snack. We loved how they used an empty coconut shell to keep the kettle hot.
Rice bowl of Vietnam
The Mekong Delta area has miles of flat flood plains, where the land is fertile, rich in nutrients making the region the most prolific in the country for agriculture. They can have 4 rice harvests annually and the region produces 60% of Vietnam's rice needs, that's why it's often referred to as "the rice bowl of Vietnam."
We visited a rice factory to see how rice noodles are made.
The process starts with rice and water mixed and left for days to create a sticky rice paste. The rice mixture was then passed through a machine that rolled it into sheets and cut into 3 metre lengths. The sheets are then dried on racks. Now we finally know where the pattern you see on rice paper comes from – it's the bamboo racks.
The racks are left to dry in the sunshine, and finally put through a paper shredding machine to create the long noodles, this factory made 500 1kg bags a day. What struck us was how basic the factory was and that it must be back breaking work using these traditional methods of production with no modern machines. Phil thought the hygiene seemed questionable, but suppose ultimately it's all cooked.
Cottage Industries
We then cycled to a rural home to meet a family and discover more about their life. It was quite a privilege seeing inside their modest home and meeting the husband and wife team who earn a living with their cottage industry of making crispy rice paper cakes. They served us hot tea and gave us a rice cake to try, such nice hospitality.
We then watched the mum make her paper cake, before letting us have a go! Phil really enjoyed it, because he loves cooking and trying new things, it was so unexpected getting to try it out for ourselves, Phil was told he did a better job than Garth – Obvs!
The rice paper cakes are then dried on large racks, finally cooked over a grill and then taken to local markets to sell.
Tropical Canals
The most picturesque part of our Mekong Delta trip was the short sampan boat trip back to our main boat. We got to cruise down a narrow canal with some gorgeous tropical scenery as the overhanging palms create tunnels. It was a real highlight of our day, just relaxing in silence whilst looking out for various wildlife on the waters edge.
Lunch at Mango Home Riverside
Back to Mekong and another yet another stop in the Hàm Luông area of the Delta this time for a 5 course meal at the Mango Home Riverside. A delightful place with beautifully kept gardens attracting loads of butterflies, we enjoyed wandering around. They also run eco-friendly accommodation.
For lunch we had Sweet and sour Bun Soup with Chicken, Steam Tiger prawns in Coconut milk, Fried Tilapia fillet with lemongrass, Stir fried pork noodles and a Chicken coconut curry with carrot and potatoes – all delicious!
One last river trip to Ben Tre
Back to the boat we were presented with some welcome cold towels and got to enjoy fresh fruit and a cold cocktail for one final cruise back down the Mekong Delta to our final destination of Ben Tre where we disembarked for our long journey back to Saigon.
On the way back to Saigon our guide passed the journey time by giving us lessons in Vietnamese which was fun. Look at how many different ways they spell the same word Ma – they all have completely different meanings, which means it's very easy to offend someone without the correct pronunciation!
It was an unforgettable and unique day trip, despite the long transfer times, we so were glad we did it as the area we visited was authentic and unspoilt by tourism. The Mekong Delta was also the perfect way to end our grand tour of Vietnam, we'd been so luck to see so many different sides to Vietnam from the street food of Hanoi, war-torn Hue, colourful Hoi An, dramatic landscapes of Ha Long Bay to the motorbike honking streets of Ho Chi Minh City. Vietnam gave us a slice of life that was completely different to our own, that we'll remember and reflect upon, it easily ranks as one of our best holidays!
Phil and Garth's Top 5 Mekong Delta Tips
Tip #1: Be prepared for heat and lack of shade, so take your hat and drink plenty of bottled water.
Tip #2: If you're prepared to leave Saigon early at 5am go see the big floating markets of Can Tho or  Cai Be.
Tip #3: Take a spare memory card, as there's tons of photo opportunities here!
Tip #4: Do try all the local food – what have you go to lose?
Tip #5: Best time to go is winter November – February, it's dry and still very hot.
How We Did It
We paid for a small group guided tour of Vietnam (Vietnam & Cambodia Uncovered) with Inside Asia Tours