Last updated: 7th January 2022
We were excited to visit Cornwall's landmark and best known attraction – The Eden Project because it's been on our UK bucket list and Garth is a keen gardener. The Eden Project is easily one of the best things to do in Cornwall. It's a place where you can see flora and fauna from all around the world inside futuristic looking greenhouses right in the heart of the English countryside. In this post we'll guide you through the best things to do at the Eden Project in a day.
About The Eden Project, Cornwall
The Eden Project is a theatre of beautiful, rare and exotic plant species from around the world. A place to learn about sustainability and horticulture. The Eden Project is an educational charity and as well as a centre of environmental research and protection.
The huge space age looking climate controlled greenhouses are called biomes, Garth thought they look a bit like soap bubbles. There are 2 main biomes – Rainforest and Mediterranean each made up of smaller domes connected together. These enormous domes are built inside a crater of a disused Cornish china clay mine. They reminded us of the biodomes we visited in Singapore.
Best Things To Do At The Eden Project
Rainforest Biome
The rainforest biome is the largest indoor rainforest in the world and simulates the humid tropics found around the globe. The path and trail leads you through 4 different rainforest climates. It starts with a tropical island setting complete with a mangrove and ends with displays of tropical crops like bananas, coffee and cocoa.
Temperatures inside the biome can get up to 35ºC, so be prepared, it's hot and humid. We took water bottles and used the free refill taps to keep hydrated. If you get too hot there are benches to rest and even escape routes to help get you outside as quickly as possible. It was over 32ºC on the day we visited because it was warm and sunny outside. We absolutely love tropical destinations when we go on holiday and stepping inside the rainforest biome transported us back to some of our favourite hot and steamy places we've been lucky enough to visit like the Maldives, Thailand and Queensland in Australia. Allow 1.5 hours to see everything inside.
Attractions of the Rainforest Biome:
Tropical Islands
South East Asia
West Africa
Tropical South America
Rainforest Canopy Walkway
The Rainforest Lookout
Crops and Cultivation
Around another corner is an impressive full-size waterfall which provides some welcome mist refreshment as we walked past. There's also a wobbly rope bridge and even an authentic Malaysian home with a kitchen garden growing mangoes and sweet potato plants used for desserts. The home reminded us of the basic bamboo made huts we saw near Angkor Wat in Cambodia. Sadly the Rainforest Lookout for a birds eye view below was closed due to the high temperatures. However, we did see a few roul-roul partridges wandering around, usually seen in Thailand, Malayasia or Borneo.
It's all very well done, Phil enjoyed reading the stories of real people like a guy who collects latex from the bark of rubber trees. Garth learned more about sustainability and how our demand for palm oil in everyday products is having a devastating effect on wildlife in countries like Indonesia and Malaysia. Where their rainforests are being cut down and replaced with oil palm plantations which means Orangutans, Asian Elephants and Gorillas could be extinct in just 20 years.
We ended our time in the rainforest biome at crop displays of sugar cane, cacao, vanilla pods, black pepper and cashew nuts. Again reminded us of a previous holiday seeing vanilla and cashew nuts growing in Goa, India.
Mediterranean Biome
Next up was the smaller and cooler Mediterranean Biome which has a maximum temperature of 25ºC. It's much more pleasant to wander around in this biome because of the drier environment. What immediately hit us are fabulous scents of herbs in the air, it totally feels like visiting Spain or Greece. The pathway takes you through 4 different Mediterranean climates found in warm temperature regions of the world. Mediterranean climates are known for having a dry, hot summer and a mild, wet winter. Allow 1 hour to see everything in the Mediterranean biome.
Attractions of the Mediterranean Biome:
Perfume Garden
Mediterranean
California
South Africa
Western Australia
Med Terrace Bar & Restaurant
The Mediterranean biome exhibits over 1,000 varieties of plants. Including gorgeous pink bougainvillea, just like the huge varieties, we saw in Gran Canaria. There's also citrus, cotton and chilli plants and a Quercus Suber tree which we've never seen before. Used for making wine corks when it's harvested every 10 years, it's one of only a few trees that can regenerate its bark.
The first garden on the path is the Perfume Garden, like a little herb garden, we liked the scents of mint and lemon verbena. Next is the California garden which has a display of prairie grasses and chaparral species. The Western Australia garden is also very nice with its carpet of bright and colourful flowers. In the grapevine garden is a sculpture of the Dionysus, the Greek god of wine surrounded by his followers, Maenads dancing amongst the vines.
Our favourite was the South Africa Garden. The recreates a display of fynbos grown in nutrient-poor soil found from the coast to mountains in the open velds of South Africa. Fynbos is a unique flora made up of 5 main plants from tall heather like plants to daisies. It totally reminded us of our time seeing all the wild fynbos as we traveled across the Western Cape whilst on holiday on a tour of South Africa.
After viewing the sculptures and gardens we stopped off at the Med Terrace restaurant inside the dome. It has a lovely atmosphere, decorated with festoon lights, it felt like a scene from Mama Mia! From here you can admire the beautiful flowers and old olive trees. Garth enjoyed a pint of Korev, Cornwall's local lager, whilst Phil was on the soft drinks as he was driving.
Outdoor Gardens
Outside the biomes is over 20 acres of gardens to explore with over 20 plant based exhibits. Various winding paths lead you on a journey through the old clay mine in an oasis of plants. There are different gardens of flowers, fruit, vegetables and play areas for children. Allow about 2 hours to see all of the outdoor gardens.
There's a botanical garden featuring plants native to Cornwall, tea bushes from India and Bombus – a giant bee sculpture in a garden of bee loving plants. There are also shady Japanese styled gardens on the way out. Our favourite area was the small designer gardens near the Core building. They look just like the show gardens you might see at the Chelsea Flower Show in London, and are great for inspiration you can take home.
We also loved the drifts of wild flowers, dahlias and the hydrangea border. We could tell there's lots of clever planting going on, so there's always something in flower at different times of the year, like Daffodils and tulips in the spring. They really are outdoor gardens for all seasons.
Core Building
The Core building is the Eden Project's education centre and is like a mini science museum. It houses an exhibition called the "Invisible Worlds Collection". This exhibition is about things that are invisible to us like microflora in our bodies. Described as "things too small, too vast, too long ago to see… until now". We didn't have much time here, but it looks like the perfect place for families and children to explore, with lots of interactive exhibits, 2 play areas and a cafe.
We did check out the 2 art installations, starting with the "Infinity Blue" sculpture standing 9 metres tall, it puffs out perfect rings of scented smoke. It's all about cyanobacteria – a microscopic organism that helps create oxygen.
Also in the middle of the Core we found the "Seed". A 167 tonne block of granite carved with 1,800 nodes representing patterns found across the natural world in sunflowers, pine cones and daises. It's huge and a tactile sculpture.
Hangloose Adventure Centre & Zip Wire
Also situated within the Eden Project grounds is the Hangloose Adventure centre. This is an additional cost and can be booked without a ticket to the Eden Project. It features England's longest and fastest zipwire with speeds up to 60mph. Plus other adrenaline activities – clambering ropes at height on an aerial obstacle course or base jumping.
Food & Drink at The Eden Project
There are 4 cafes within the Eden Project. The Canopy Café is the main restaurant in the building between the 2 biomes serving up pizza, burritos, salads and sandwiches and of course Cornish pasties. We bought steak pasties and were easily one of the best pasties we've eaten in Cornwall. There are plenty of tables inside and out, plus around the outdoor gardens where you are welcome to take your own picnic.
80% of the food and drink is locally sourced from businesses across Cornwall and Devon. So there are no brands like Coca Cola. Be warned the ethically sourced produce does come at a higher price than usual. Any waste food is made into compost for the gardens.
Is The Eden Project Really Worth It?
Yes, we thought so. The Eden Project tickets are expensive but they do double up as an annual pass, we saw this approach to annual ticketing when we visited Bletchley Park. The Eden Project is a great option for a rainy day in Cornwall as there is so much to do undercover.
More 'Edens' are planned across the world including China and the USA plus another Eden in the UK at Morecambe in the North of England based on marine conservation.
The Eden Project Practical Information & Useful Advice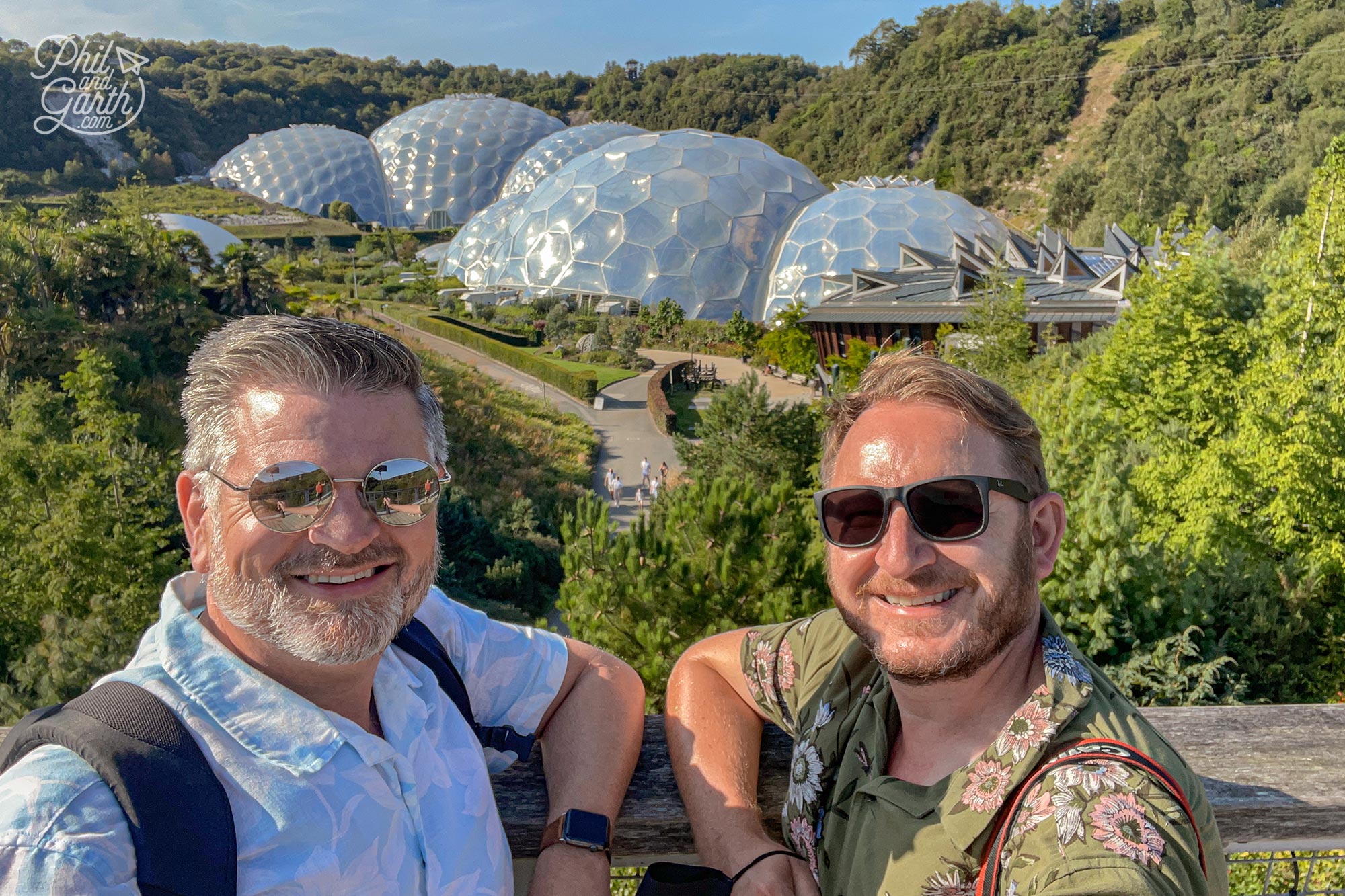 Phil and Garth's Top 5 Eden Project Tips
Tip #1: Carry a bottle of water with you for the hot climate inside the Rainforest biome.
Tip #2: Wear sun cream and hats inside the biomes on sunny days as they transmit U.V.
Tip #3: There are picnic tables outside, so take your own food if you want to save money.
Tip #4: Dress in layers and use the free cloakroom to store your coats before entering the rainforest.
Tip #5: The car park is a fairly long walk to the entrance and a steep walk uphill on the return.
The Eden Project Facts & FAQs
What are the Eden Project opening times? 7 days a week, 9.30am to 6.00pm, last entry at ticket office 4pm. You need to book a timed slot on their website.
How much does the Eden Project cost? £32.50 for adults, £10.00 for children (age 5-16) and £30.50 for seniors (age 60+).
How is the parking at the Eden Project? Parking is free at the Eden Project, and it's a 10-15 minute walk to the entrance.
When is the best time to visit the Eden Project? June to September is best for blooming flowers.
When is the worst time to visit the Eden Project? There's not really a bad time because of the indoor attractions. However December is the wettest month.
Where is the Eden Project in Cornwall? Located 1.5miles from St Blazey and 3 miles from St Austell.
How do I get to the Eden Project? Pop this address into your satnav – Eden Project, Bodelva, Cornwall, PL24 2SG.
Are dogs allowed at the Eden Project? Yes, but only in the outdoor gardens.
Can I stay at the Eden Project? Yes, there is accommodation right next door at the YHA Eden Project in converted shipping containers.
When did the Eden Project open? 17th March 2001.
What tv shows and movies have been filmed at the Eden Project? 007 Die Another Day (2002) and BBC's The Day of the Triffids (2009)
Maps of The Eden Project
How We Did It
We visited The Eden Project in the height of summer in August during the school holidays, which is the busiest time. However, despite this, it didn't feel super busy or overcrowded which was a pleasant surprise.
Pin our Eden Project travel guide for reference …